These are a few of our favourite people and products
 I have known Linda for about 8 years. Linda is a truly gifted individual. Her ability to facilitate  healing and transforming life's challenges is powerful. All in all, Linda is my go to person whenever I seem to be a little stuck or am getting in my own way. She can be reached through her web site: www.goforthejoy.com
 Nancy is without a doubt one of the best dental hygienists in the Kitchener – Waterloo area. Her happy disposition is a joy to be around and experience. Nancy has a full service clinic and is also highly qualified in the manufacturer of custom mouth guards. So, whether it is having your teeth cleaned, teeth whitened, or teeth protected, Nancy is the one to call. She can be reached at 519.744.5200 or through her web site http://www.nancyhall-dentalhygiene.ca
 Dana is the owner and head coach at Twisted Pine Farm. During Dana's highly successful  twenty year coaching career, her students have won numerous dressage and jumper championships. Her passion for eventing competitions from Entry to Advanced throughout North America, has resulted in many accolades such as, Young Riders Team members, OHTA Horse of the Year awards, OHTA leading Male Rider, and OHTA High Point Young Rider and numerous Royal Winter Fair conformation champions. Dana can be reached at 519.222.5118 or http://www.twistedpinefarm.ca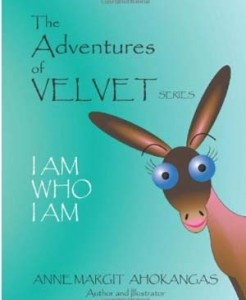 I Am Who I Am: The Adventures of Velvet series
When Velvet moves to Twisted Pine Farm, the guardian donkey is a little worried about taking care of so many new animals.
Each time she gets anxious, she repeats her mother's wise words of advice: "I am who I am, and who I am is — just perfect."
After all, it isn't easy finding her place in a strange, new world.
For readers of all ages.
Author and illustrator Anne Margit Ahokangas based her book on a real-life donkey by the same name who serves as a guardian donkey on Twisted Pine Farm in Ayr, owned by Dana Balfour. Ann can be reached at www.theadventuresofvelvet.com